A lot of things will change for me after this week! Well, I'm trying hard not to be morose about it but I'm counting down the days before I have to withdraw from blogging duties until July, since I'll be reviewing for, and taking my licensure exam. Yeah, cue the suspense music now. I'm pretty nervous about it but really, I can't wait to probably be a "full time blogger" after my exams since I have nothing else to do-ish.
And today's my dad's birthday so I wanted to make him something that's not the run of the mill birthday cake. The funny thing is I haven't really tried a hand at baking a cake before! My dessert repertoire really consists of cupcakes and cheesecakes as of the moment, and I haven't been able to expand my skills yet.
Having said that, and because I had to work with what I had (a battered old nonstick cupcake pan), I decided to make him Sticky Toffee Pudding! I've always wanted to make it ever since I first heard of it win top honors in a contest for a new
flavor of Haagen Dasz ice cream
. My version of Sticky Toffee Pudding was apparently a home run since every one enjoyed it.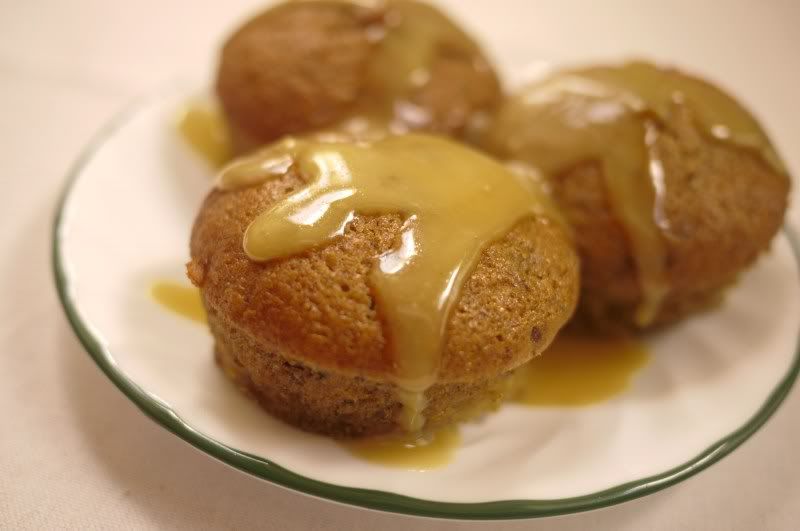 Sticky toffee pudding, a British dessert, is basically a brown sugar cake filled with chopped pitted prunes bathed in a sweet - salty toffee/caramel sauce. But I got this recipe from Yummy.ph, the web version of a popular food magazine here in the Philippines.
This recipe was practically a no-brainer. It didn't involve complicated cooking techniques, so I didn't have trouble with it. The result, for a lack of better words, blew me away. I've always loved Food for the Gods especially during the holidays and it tasted exactly like that. The cupcake was moist, with just the right amount of sweetness thanks to the brown sugar, butter and prunes (which weren't overpowering at all).
Apparently the secret to good Sticky Toffee Pudding is the sauce, and I really didn't follow the recipe that much. We have little to no options when it comes to heavy cream, so I just used Nestle cream, which is thick enough as it is, and I used a can of it since I wanted nothing to go to waste + I added a dash of honey AND what I thought was the secret ingredient: a dash of salt.
I went all generous with the sauce, practically bathing every spoonful with it. All in all, it was indulgent awesomeness.
Sticky Toffee Pudding
Adapted from Aileen Anastacio's recipe from Yummy.ph
Yield 12 small cakes Prep Time 15 minutes
Baking Time 20 - 35 minutes
1 1/4 cups dates
1 cup boiling water
1 cup butter
1 cup brown sugar
4 large eggs
1 teaspoon vanilla extract
1 cup all-purpose flour
1 teaspoon baking powder
1 teaspoon baking soda
1 teaspoon cinnamon
1/2 teaspoon salt
1/4 cup buttermilk
For the pudding sauce
3/4 cup butter
1 cup brown sugar
3/4 cup heavy cream (I used one can/300 g Nestle Cream)
1 tsp honey
A dash of salt
Preheat oven to 180 C/ 350ºF.

In a bowl, steep dates in 1 cup boiling water for 5 minutes then drain. Pulse dates in a food processor until roughly chopped.

In a medium saucepan, melt together butter and sugar on medium heat.

Remove from heat and mix in eggs one at a time.

Mix in vanilla extract and dates.

In a separate bowl, whisk together all-purpose flour, baking powder, baking soda, cinnamon, and salt. Gradually add in to batter. Add the buttermilk, mixing until combined.

Transfer batter to a cupcake pan and bake for 20 - 30 minutes or until cake tester inserted into one of the molds comes out clean.

Make the pudding sauce: In a saucepan over low heat, combine butter, brown sugar, and heavy cream, stirring constantly until smooth and slightly thickened. Spoon over pudding. Serve individually on dessert plates with more sauce.