When will I ever freakin' learn? Today's day 4 of my daily lechon habit. Suffice to say graduation parties sponsored most of my lunch and dinner for the better part of the week. After this morning's binge, I told myself - NEVER AGAIN.
Of course, "never again" meant I'd soon cook something that just screams "I'M REDUNDANT". But then I thought....no one says "no" to adobo. No one. Today, I cooked darn good adobo for dinner, and I'm not just saying that to please my ego.
Nothing says "Hello world! I'm a Filipinooooooo!!!" than adobo. Be it pork or chicken, the meat stewed in soy sauce, vinegar, bay leaves with the optional sugar, left to dry a bit, served on a bed of steaming rice, is....amazing.
What I did was to stretch the recipe a little bit. I got the recipe from the lifestyle section of a local daily and my mom insisted that I try it. So Instead of just letting it cook in the sauce, I fried the meat in oil afterwards, thickened the sauce to a gravy-like consistency and made fried rice using the adobo sauce. All in all, the adobo (sauce) on adobo (meat) on adobo (rice) was a feast for the senses. The garlicky smell really came through + the meat was tender and the perfect balance of salty sour sweet + the sauce and rice had the perfect texture.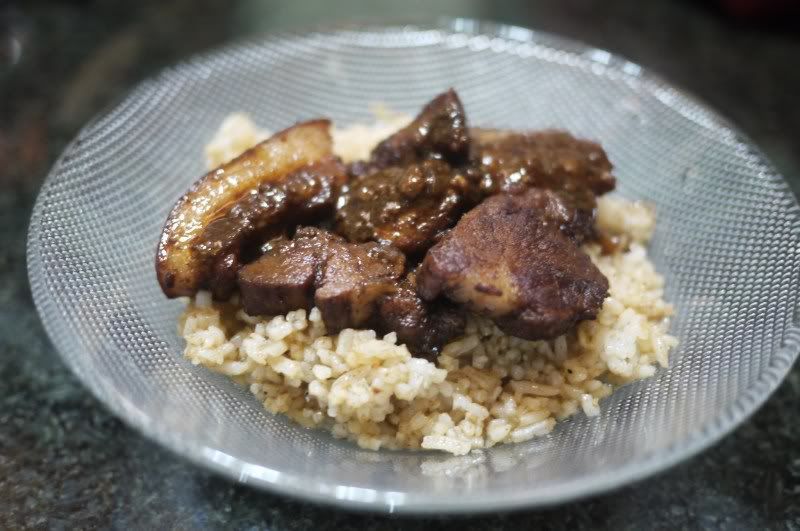 A great way to end my night if I do say so myself, but I wouldn't really make this a daily habit...unless I wanted a one way ticket to the ER.
Fried Adobo with Adobo Rice
Ingredients
1 1/2 kilo pork liempo (belly) cut 1 1/2 inches wide, 1/2 inch thick
1 small can liver spread
1/2 cup soy sauce
1/2 cup vinegar
1/2 cup water
1 tsp brown sugar
1 tsp cracked peppercorns
1 small head of garlic, crushed for adobo
1 small head of garlic, crushed for adobo rice
oil for frying
Directions
1. Put all the ingredients in a saucepan (except garlic for the rice) and let it boil. Once boiled, lower the heat and cook until meat is tender. When cooked, remove meat from sauce, drain and set aside.
2. Combine the liver spead with the adobo sauce and allow to reduce over low heat, until sauce thickens. Remove the sauce from the pan. The pan will also be used to cook the adobo rice.
3. Fry the pork in oil until crispy but do not overcook. Remove from oil and pat with paper towels to remove excess oil.
4. In the pan used to cook the sauce, fry the garlic in 1 tbsp of the oil used to fry the pork. Add 3 - 4 tbsp of the sauce and add 2 cups of cooked rice and mix well.
5. Serve the adobo on top of a bed of adobo rice and topped with the adobo sauce.