I woke up this morning with my parents gone and off to work, and me without anything to eat for breakfast since it's already 10am. I know, poor me. So I was looking at our cupboard and I saw that my aunts (from Texas who went home two days ago) left us with a carton of buttermilk pancake mix, the "just add water variety". It doesn't sound fancy but at least I have something to eat. Plus, the ants were already first in line, so I had to do something before the demons eat what's left of my soon-to-be-breakfast.
So the "just add water" part didn't disappoint. Soon enough, 1 cup of mix with 3/4 cup water gave me two medium sized pancakes, which I realized in the long run, I couldn't finish without feeling gargantuan feelings of guilt and regret.
I didn't have maple syrup but another thing my aunts left us was french vanilla coffee syrup. It probably sounds snooty but I was willing to try it out because it hopefully tastes great and would make my pancakes sing. Plus, who doesn't like the smell of vanilla in the first place? I mean, come on.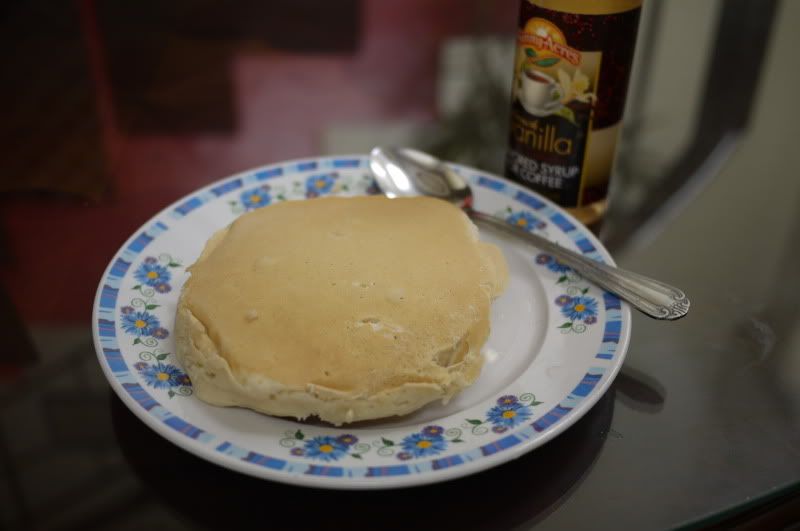 So after a few generous drops of the vanilla syrup, a spoonfull of soft chewy goodness and few seconds later....
I decided to add a heaping spoonful of butter. Yes, butter. At least it was the unsalted kind. The pancake, well, wasn't really as tasty as, dare I say it, the local variety here. It wasn't really sweet and evenly cooked. I'm not sure if the latter was my fault though. And the syrup? The vanilla smell didn't push through the pancakes, and to top it all off, it was bland! Now I know why it was specifically labelled for coffee.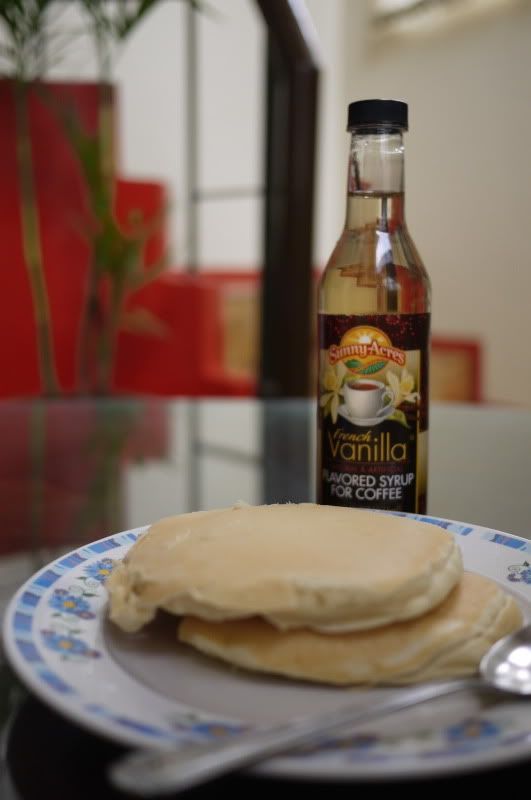 The packaging was nice so I figured it tasted as good. Well, I figured wrong. I should've guessed that something as snooty as "french vanilla flavored coffee syrup" would be, true to form, snooty (fake).
Butter makes everything better. Good morning world!