I would like to think that this post is a long time coming.
When Julie Ruble, the brains and the spatula wielding hand behind Willow Bird Baking, declared all is fair in love and cheesecake and she was challenging all the would-be foodies out there to bake a Cheesecake (it's called the Cheesecake Challenge afterall) to inspire kitchen confidence and among other things, celebrate National White Chocolate Cheesecake Day (I'll skip this observation all together haha) - I didn't really have an iota of hesitation.
I really thought I could vindicate myself and rehabilitate my baker's ego after not one, but two less than stellar baking attempts. OK, the first one was less than stellar. The second incident was a complete trainwreck.
So in a nutshell: The first incident involved a Red Velvet cupcake recipe using rock salt, cooking oil and red food coloring powder. The outcome was a bit dry for my taste and when I bit into a piece of salty undissolved solid, I realized that we desperately needed iodized salt. It was also that time that I realized that to make my life less stressful, I need the liquid variety of food coloring.
The next one was for Valentines Day, when I wanted to surprise my mom with a Chocolate Almond Cheesecake. Bottomline number 1: Never ever ever ever use almond extract if the recipe calls for more than one drop and bottomline number 2: A springform pan must be held and handled along the sides, careful not to make the unstable bottom even more unstable. Long story short, 80% of the batter went into the bain marie. Trainwreck. I know.
So...redemption. That was in my mind the whole time I was perusing
her list of cheesecake recipes
to try. Funny thing is, I was supposed to make her
Red Velvet Cheesecake
for Valentines day. Now I wonder what would've been the bigger disaster at that time. So that was definitely on top of the list since I wanted to try it once and for all. Then I saw her
Chocolate Cheesecake Stuffed Cupcakes with Ganache
and I was intrigued at how simple the directions were. Plus, it didn't involve a springform pan! I was juggling between the two recipes for quite some time when I realized....."hey, why not kill two birds with one stone?" I think I just had my lightbulb moment.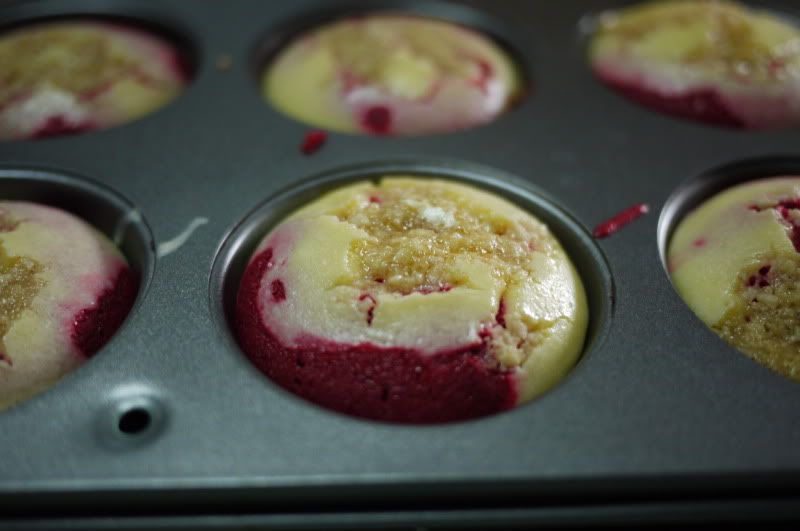 The cheesecake recipe I made is practically a mash-up. It draws inspiration from both recipes - it's the cupcake WITH a red velvet base, same cheesecake topping BUT instead of adding chocolate ganache, I used streusel. Come to think of it, the cupcake could probably be the Red Velvet cheesecake recipe turned upside - down, inside - out and then some. Invert the original recipe and you get cake, cheesecake and crust (the streusel). My lightbulb moment keeps on coming!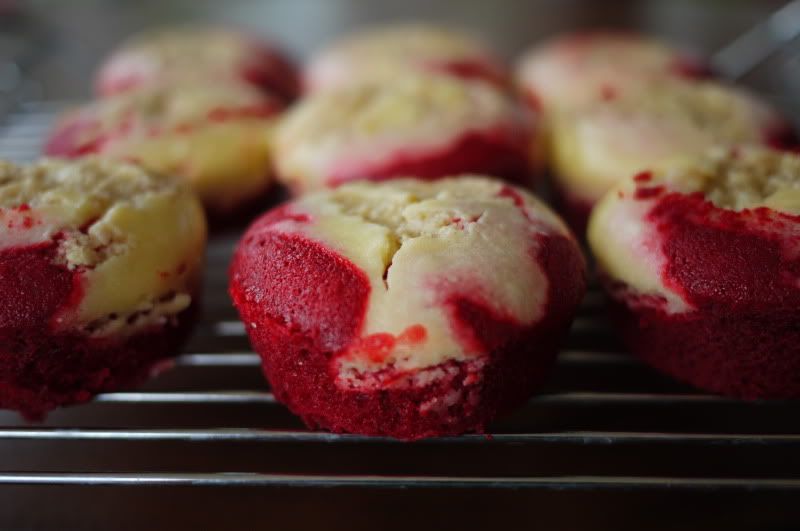 I finally bought shortening (instead of oil) for the cupcake and I didn't know it looked like solidified pork fat! Cringe worthy moment aside, there was a big difference in terms of consistency when I used shortening - the cupcakes were softer and more crumb-y in texture, which I actually liked. The inspiration for the streusel came from the idea of putting some leftover graham crackers to good use. Ironically I didn't use graham crackers and used slivered almonds instead. And it's safe to say I followed the recipe to the letter. The fact that the cupcakes didn't blow up in my face and the streusel didn't burn already says a lot!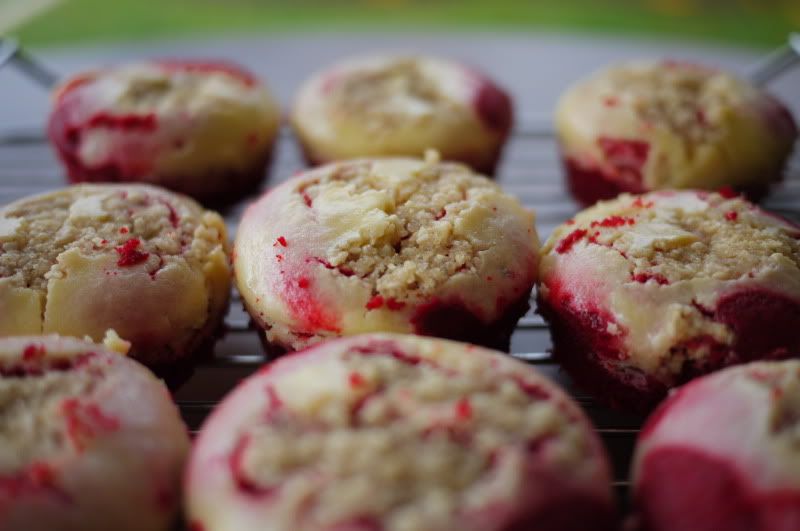 So the verdict? The cake was soft, moist and the hint of chocolate was there. The slightly tart cream cheese topping really set well and complemented the cake. The streusel was just as I imagined it to be - sweet, slightly crunchy and not overpowering at all. It was, all in all, the perfect topping. I was glad I joined
The Cheesecake Challenge since I think I really kicked ass.
At the end of the day, I finally held redemption in my hands, and I gotta say, it tasted great!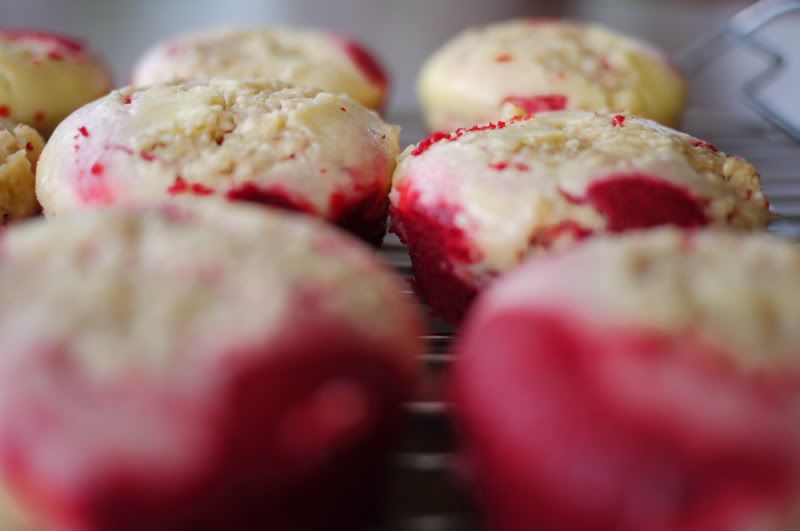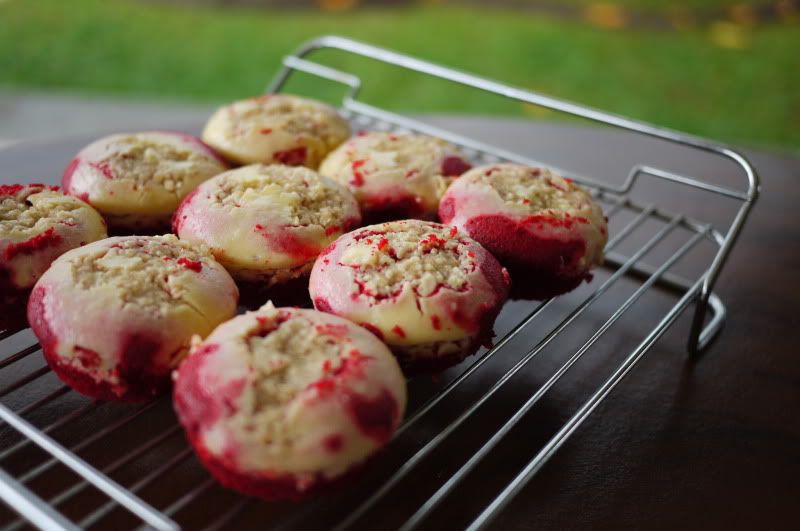 Cheesecake Stuffed Red Velvet Cupcakes with Almond Streusel
inspired by the Red Velvet and the Chocolate Cheesecake Cupcakes by Willow Bird Baking
Ingredients
Cream Cheese Filling:
8 ounces (227 grams) cream cheese, room temperature
1/3 cup (65 grams) granulated white sugar
1 large egg
1/2 teaspoon pure vanilla extract
8 ounces (227 grams) cream cheese, room temperature
1/3 cup (65 grams) granulated white sugar
1 large egg
1/2 teaspoon pure vanilla extract

Red Velvet cupcakes
1/4 cup vegetable shortening
1 egg
1 tablespoon cocoa
1/4 teaspoon salt
3/4 cups sugar
1/2 teaspoon vanilla
1/2 cup buttermilk
1 1/4 cups flour
1/2 teaspoon baking soda
1/2 tablespoon white vinegar
1 ounce/2 tablespoons red food coloring

Streusel
1/4 cup brown sugar
2 tablespoons butter
1/2 teaspoon cinnamon
1/4 cup slivered almonds

Directions
For the Streusel: Grind/Process the almonds in a food processor until coarse to slightly fine. Add the remaining ingredients and process until well incorporated but not too smooth. Keep in the refrigerator until needed.

For the Cream Cheese Filling: In your electric mixer, or with a hand mixer, beat the cream cheese until smooth. Add the sugar, egg, and vanilla extract and beat until creamy and smooth. Set aside while you make the Red Velvet.

For the Red velvet cupcakes: Preheat oven to 350 degrees F. Cream shortening, sugar, and eggs. Make a paste of the cocoa and coloring and add to the shortening mixture. Add salt and vanilla. Add buttermilk alternately with the flour, beginning and ending with flour. Mix vinegar and soda right before using and add to mixture by folding in. Evenly divide the batter among the 12 muffin cups (resist the urge to overfill — remember that the cream cheese filling needs some space too). Spoon a few tablespoons of the cream cheese filling into the center of each cupcake. Crumble the hardened streusel and add your desired amount directly on top of the cream cheese.

Bake in the preheated oven for about 20-25 minutes, or until the cream cheese filling is a little brown and the cupcakes feel springy to the touch (a toothpick inserted into the chocolate part of the cupcake will come out clean). Remove from oven and place on a wire rack to cool.
yield: 12 cupcakes