I've been itching to make Buffalo Chicken Wings ever since I tasted those amazing, delicious wings from Yellow Cab when I was in Manila. What was with the wings that had me at hello? First off, they were spicy, which I gather is a trademark of Buffalo wings. They were sour enough that it was crazy not to get more than....5 pieces. They were tender, not really that crispy but it works for me. All in all, they were succulent mouthwatering pieces of heaven.
I wanted my first Buffalo Wings attempt to be the "not from the packet" variety. There are seasoned mixes out in the market but I wanted to take the road less travelled and make my own sauce and cook it my way. Well, that simply means instead of frying the wings, I boiled, then baked them.
In terms of the chili sauce, for the better part of my search, I always ended up being led to the one sauce that most of the food blogs I visit rave about - Sriracha style chili sauce. The recipe I got seemed easy enough, with all the ingredients readily at hand. I think what really makes the difference is the kind and amount of chili you put into the sauce. We really don't have a lot of chili pepper varieties here, except for the tiny ones, the long ones and the bell peppers. OK, I think the last one doesn't count.
Anyway, what was the outcome? Well, baking the wings definitely produced a different texture than what I expected. Boiling then baking definitely gave the chicken wings crunch. I didn't know baking could do that! But, I felt as if it was a bit dry and it didn't have the juicy quality I know Buffalo Wing have. Sure baking is healthier and stuff, but, I'm excited to do another batch with some modifications - deep fry the b*tches in hot oil WITH a stick o' butter. Yum. BUT my wings were still tasty though if I do say so myself. Maybe if I would stick to baking it, I would bake it for 15 minutes or less.
As to the sauce, more is I think, merrier. More chili peppers next time. But all in all, I liked the sauce because had a lot of components that work well together - the garlicky, tomato-y base was really tasty.
I would still give myself a pat on the back for this attempt. But believe me, I'm still craving for spicy sour chicken wings right now.
Baked Buffalo Wings


Adapted from food.com




2 lbs chicken wings
2 tablespoons cayenne pepper
2 teaspoons crushed red pepper flakes (I didn't have this so I just slice some fresh chili)
2 tablespoons salt
1 cup Sriracha style hot sauce (recipe follows)
Prep Time:

15 mins

Total Time:

45 mins
Directions:




Fill a large pot half way with water and then add the first 4 ingredients.

Bring water mixture and wings to a boil and then boil for 15 minutes.

Transfer wings to an oven safe container coated with cooking spray. Bake wings on "Broil" (high) for 15 minutes on each side.(For crispier wings, cook longer on each side, maybe 20 minutes per side).

While waiting for wings, combine the Hot Sauce and Margarine in a microwave safe container and cook in microwave for 2 minutes or until melted. (You can cook the sauce longer for a thicker sauce).

When wings are done, mix with the sauce and enjoy!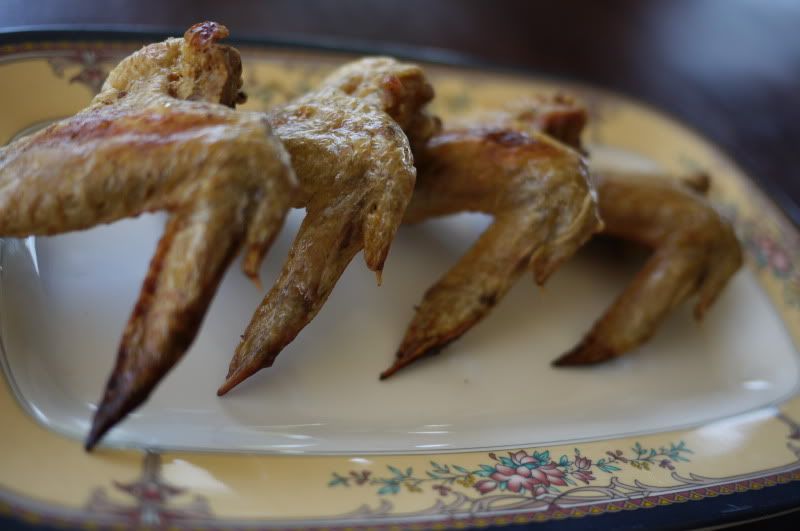 It takes a few seconds for these plain jane wings to look like, well, buffalo wings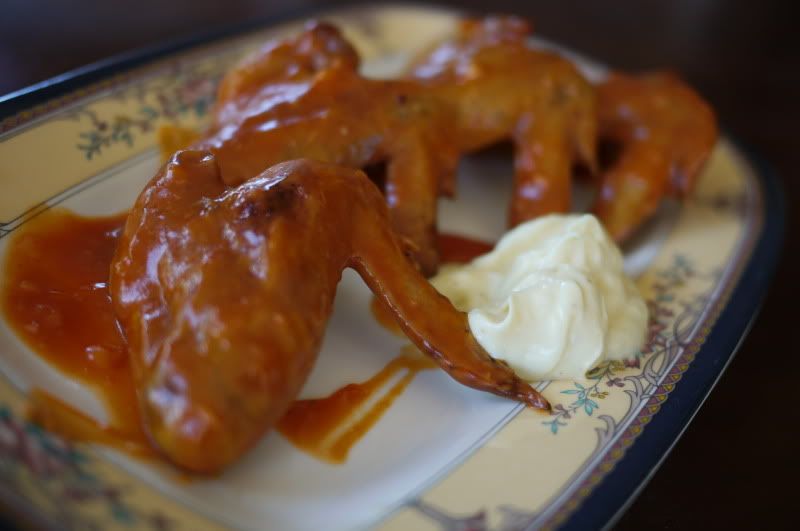 Chili Hot Sauce Recipe – Sriracha style
Chili peppers of your choice and amount (I used two finger chilis and four small bird's eye chilis)
4-5 med. cloves of Garlic, crushed or minced
2 med Shallots, minced
1 T Vegetable Oil
2 – 8 oz. (or 1- 15 oz.) can of Tomato Sauce
1 T Fish Sauce
3 T Rice Vinegar
3 T Sugar
Directions:
Remove stems of chili peppers, rinse clean. Blot dry with paper towel. Wearing rubber gloves, mince the chili peppers. The smaller the cut, the smoother your final sauce will be.
In sauce pan, heat oil then add minced garlic and shallots. Over medium-high heat saute for a about 1 minute or until light brown and fragrant. (don't burn your garlic!)
Add tomato sauce and minced chili peppers. Let sauce come to a simmer then lower heat to keep at a low simmer. Add fish sauce, vinegar, and sugar. Mix well.
Continue simmering sauce for about 5 minutes. This will break down the chili peppers and soften them to create the smooth consistency. Remove from heat and allow to cool completely.
Transfer sauce to blender and blend till smooth or until most of the chili pepper skin and seeds break down- preferably on the "liquefy" mode.
Taste the hot sauce. Further customize the hot sauce to your liking: add more sugar, vinegar or water. Blend one last time till smooth. Pour into clean, air tight jar and refrigerate. Use within about 1 week.
Now, I remembered that the Buffalo Wings usually have a dip on the side, so I made my own version since we obviously don't have blue cheese here.
Garlic Mayo-Mustard dip
Ingredients
1/2 cup mayonnaise
1-2 tsp mustard
2 tsp garlic power
1 tsp cayenne pepper

Directions
1. Wait for three days for the mayonnaise to spoil, then allow to age in oak barrels.
2. I kid. Combine all the ingredients in a bowl. It doesn't get any easier.