My mom and I had carbonara for breakfast today. The recipe has definitely been part of my 'to-do' list for a while now. Seriously, I'm hard-pressed to make a few dishes before my Licensure Review starts in two weeks. In a nutshell, the ingredients that I'm itching to play with are buttermilk, chicken breast, japanese breakcrumbs, peanut butter, nutella, shrimps, and mirin. NO, these aren't going into one pan.
Just stay tuned because part of my short-term bucket list is to CONQUER a few recipes and to cook up a STORM. It's just sad that I won't be able to blog and cook so much until JULY, since my review will last for two months, and I seriously need to focus if I want to get my license in one take. But for now, let's revel in the sweeetness...err savoriness.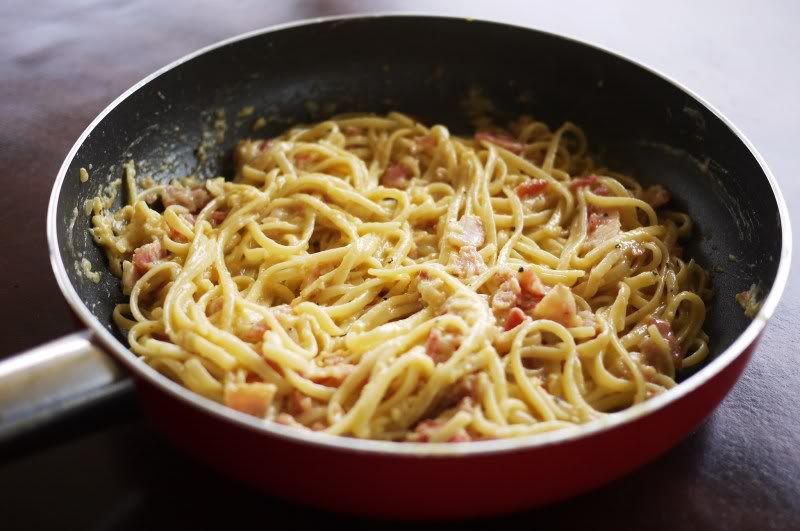 I got the recipe from
80breakfasts
, if you're interested. Trust me, you will. It's funny that I called this breakfast carbonara, because it actually had some small pieces of scrambled egg in it. The original recipe said to just stir the hot pasta in the scrambled egg to make a sauce. It was runny and I seriously wasn't convinced that it was safe for consumption, so I put the pasta with the sauce back in the pan for a few seconds.
By the way, I also wanted to do this because I wanted to begin the festivities early on, and welcome my morning on a happy note. Today, I'm graduating from college (!) And I could just well up in pride and happiness right now, but no, I just ate darn good carbonara.