OK, before I say anything else, I'd like to apologize for whatever I post here right now. Even if this recipe is supposed to be light, fresh and guilt-free, well, looking at the pictures I took I realized they look....unappetizing? Tell me if I'm wrong, but I know somewhere out there you're nodding your head and saying "hell yeah".
So today's friday and after my adobo escapade, I seriously wanted to make something lighter than the usual pork fat on rice fare I usually have most of the days of the week. So I visited food.com and the first thing I saw was a nice little picture with "Eggplant Parmesan" placed on the side. I was sold. Pfft Yeah, like I don't say that after every recipe I read. Plus, I'm semi-fasting today to observe the Lenten season, so I needed a good scapegoat to eat heartily.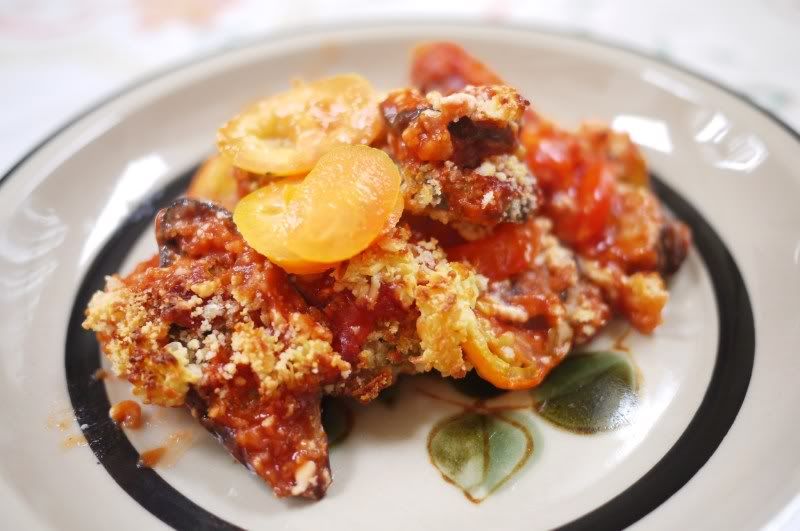 It took a while for me to really put the ingredients together. The recipe called for peeling the eggplants, and so I did. After what I thought were twenty grueling minutes of figuring out where the dang peeler is and using a knife instead, I decided to just slice the damn eggplants with the skin on.
Here's my dilemma though: It's supposed to be healthy right? I thought so and it obviously is (sort of..I think) but looking back: the eggplant slices dredged in a breadcrumb and parmesan mixture were baked in a nonstick pan with olive oil in it. So technically the hot oil somehow fries the eggplants right? So is it any healthier (albeit more taxing) to bake it? I think I'll try frying it next time. There's a next time, because I'm seriously in love with this dish.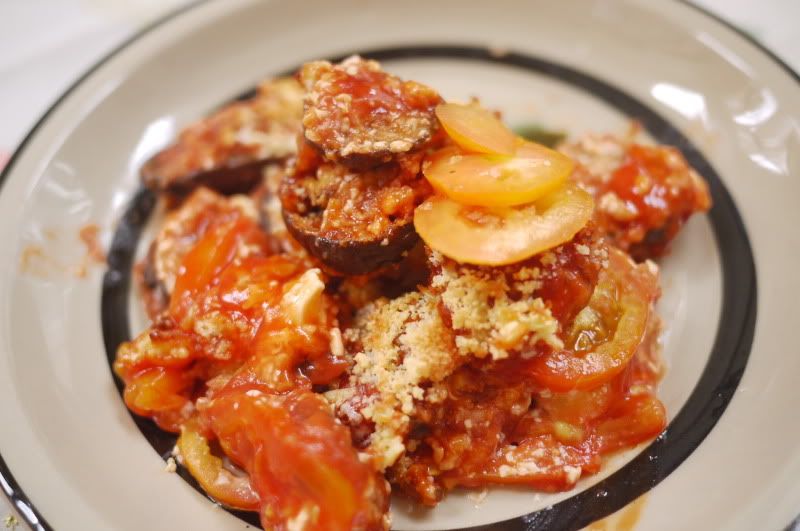 The breadcrumb-parmesan coating really came through and eating the eggplants covered with the tomato sauce really reminded me of pizza! It was savory, slightly tart and the eggplant slices were cooked perfectly - soft but not mushy. I didn't have mozzarella so I used cheddar but I think the sensory experience would reach new heights with mozzarella. But still, I loved eating it as it is. I was a light, near perfect lunch.
Baked Eggplant Parmesan
serves 2 - 3
adapted from food.com
Ingredients

olive oil, for baking pan
2 large eggs
3/4 cup plain breadcrumbs
3/4 cup finely grated parmesan cheese, plus2 tablespoons grated parmesan cheese, for topping
1 teaspoon dried oregano
1/2 teaspoon dried basil
coarse salt
pepper
2 large eggplants or 3 - 4 medium eggplants, peeled and sliced into 1/2-inch rounds (2 1/2 pounds total)
6 cups store-bought chunky tomato sauce (see recipe below) or 6 cups homemade chunky tomato sauce (see recipe below)
3 medium-sized tomatoes, sliced into rounds
1 1/2 cups mozzarella cheese, shredded (I didn't have this so I used cheddar)
Directions



Preheat oven to 375°F

Brush 2 baking sheets with oil; set aside.
In a wide, shallow bowl, whisk together eggs and 2 tablespoons water.
In another bowl, combine breadcrumbs, 3/4 cup Parmesan, oregano, and basil; season with salt and pepper.
Dip eggplant slices in egg mixture, letting excess drip off, then dredge in breadcrumb mixture, coating well; place on baking sheets.
Bake until golden brown on bottom, 20 to 25 minutes.
Turn slices; continue baking until browned on other side, 20 to 25 minutes more.
Remove from oven; raise oven heat to 400°F.
Spread 2 cups sauce in a 9-by-13-inch baking dish.
Arrange half the eggplant in dish; cover with 2 cups sauce, then 1/2 cup mozzarella. Add the sliced tomatoes to make on layer
Repeat with remaining eggplant, sauce, and mozzarella; sprinkle with remaining 2 tablespoons Parmesan.
Bake until sauce is bubbling and cheese is melted, 15 to 20 minutes.
Let stand 5 minutes before serving.

To make Chunky Tomato Sauce: In a medium saucepan, heat 1 tablespoon olive oil over medium heat.Cook 1 small diced onion and 2 minced garlic cloves, stirring frequently, until translucent, 2 to 4 minutes.Crush 2 cans whole tomatoes (28 ounces each) into pan; add 1/4 teaspoon dried oregano.Simmer, stirring occasionally, until thickened, 15 minutes.
My mom had some chicken sandwich filling in the fridge, so in lieu of a white cream sauce, I used that. It was amazing and made the dish even better. I'll try to make a creamy mayo sauce next time though, so I'm pumped up for that!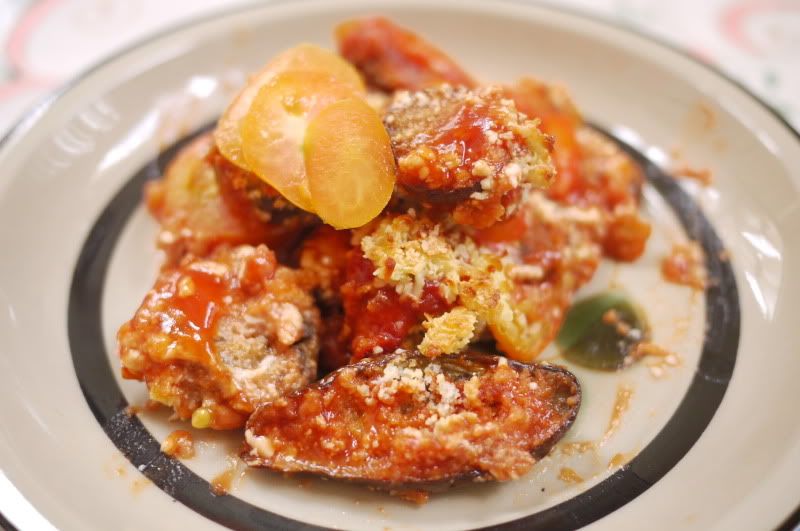 Did you like the photos? 'Cause I'm not too crazy about them but in the name of all things impromptu, uhmm...there you go.