"If I remember it correctly, my childhood, the memories I have with me ever since I could remember, were spent in the loving arms of my grandparents. I guess, I could say that a big part of my childhood consisted of me spending time with my grandparents. Grandpa would make me wear his ten gallon hats he got from Texas, drive me around town and take pictures of me. I would always remember Grandma as the very energetic Avon lady, and still, has time to scold me for going inside the house with muddy feet. My grandma is very particular about the cleanliness of the house, and she would always flinch when she saw how messy the house looked. Grandpa used to buy me toys when my parents said no. and I would always go with him to the department store, and pick out the toy that I wanted. During the Christmas seasons, the living room would always be full of gifts that grandma and her secretaries would wrap for her f.d.'s. Those were the things that come to mind whenever I thought of my grandparents. My childhood would never be the same without them. both of them, showered the family with so much love and care that on my part, I really didn't think I deserved it all. Being religious, it was not a habit but already a lifestyle for them to attend mass every morning. So, I'm taking this opportunity to thank both of you, for being the loving grandparents that you are. Being supportive, being a good role model for me. Thank you, for striving so hard to earn a living, and in the end, giving your family a bright future. Sometimes I even wonder how you did it. It's like nothing is impossible for you two. And so, every new year, when you count down the years, months, weeks and days, at last, we're finally going to celebrate this day. A testament to the love you kept alive in your hearts. Without a doubt, when God decided to bring you two together, He didn't think of anyone else better. Just remember that age is only a number, you can be 80, but that won't stop you from living life to the fullest. Both of you deserve this day. We love you. Here's to the next fifty years."


...My maternal grandparent's celebrated their golden wedding anniversary last Saturday, June 3, 2006. This was the speech I made for them. I never got to read this, I lost the hardcopy at the reception, and I had to make a new one from scratch, since, I forgot it's contents. And I guess, they liked my new speech even better.

...The wedding was really beautiful...and the reception was so grand. I really don't know how to describe it properly! My grandfather's relatives came from Canada and they were the ones obsessed with ballroom dancing, so when the dancing started, they danced the night away. This was taken when they arrived at our house.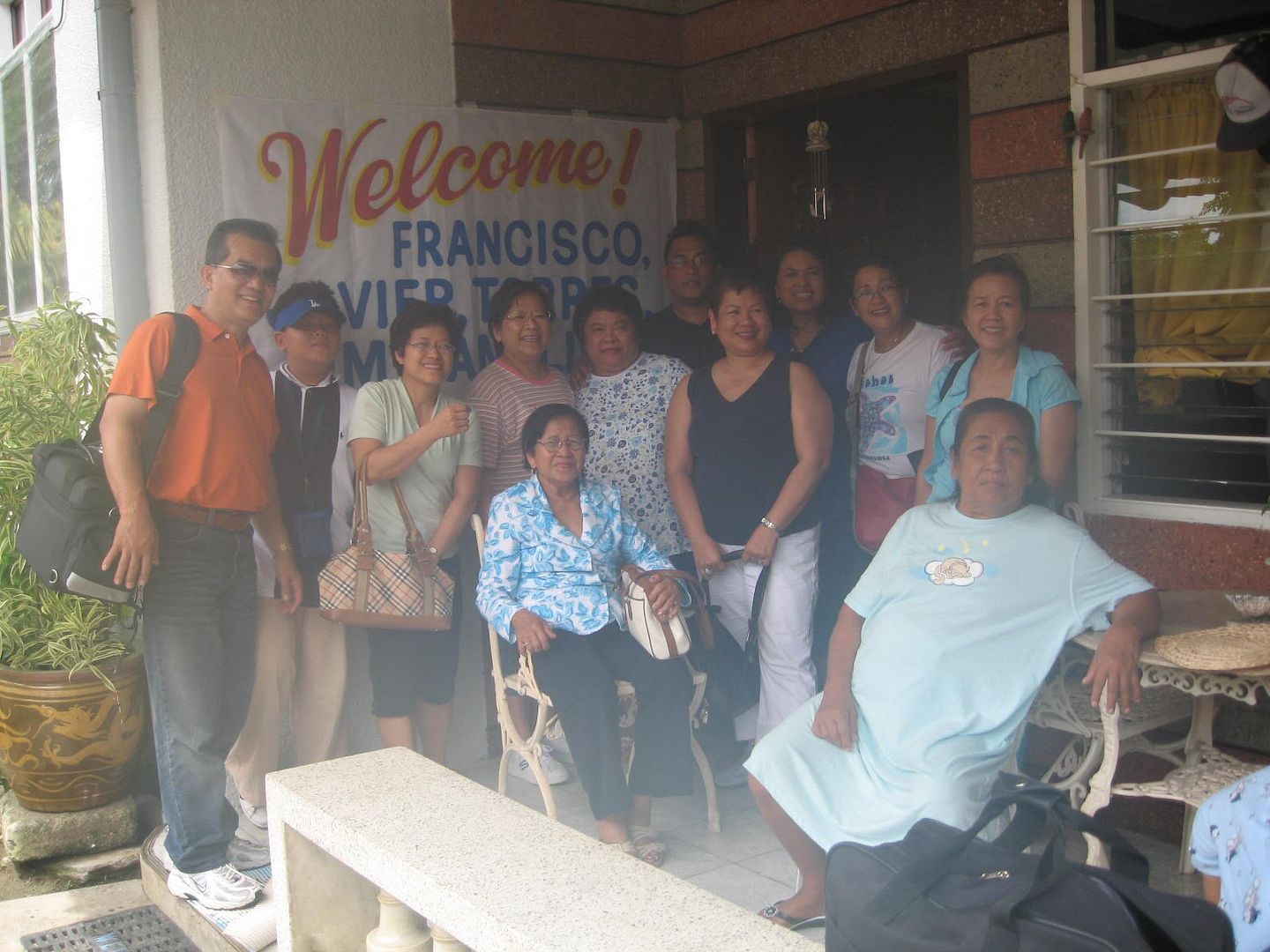 ...My grandparents have four children, two of them are already nurses in Texas, and they kind of persuaded me to take Nursing as my course in college, and I guess they were right. Nursing really sounds good right now ( according to them). The other two, my mom and uncle, are here in Zamboanga right now (they have no intention of going emigrating).

...We had t-shirts!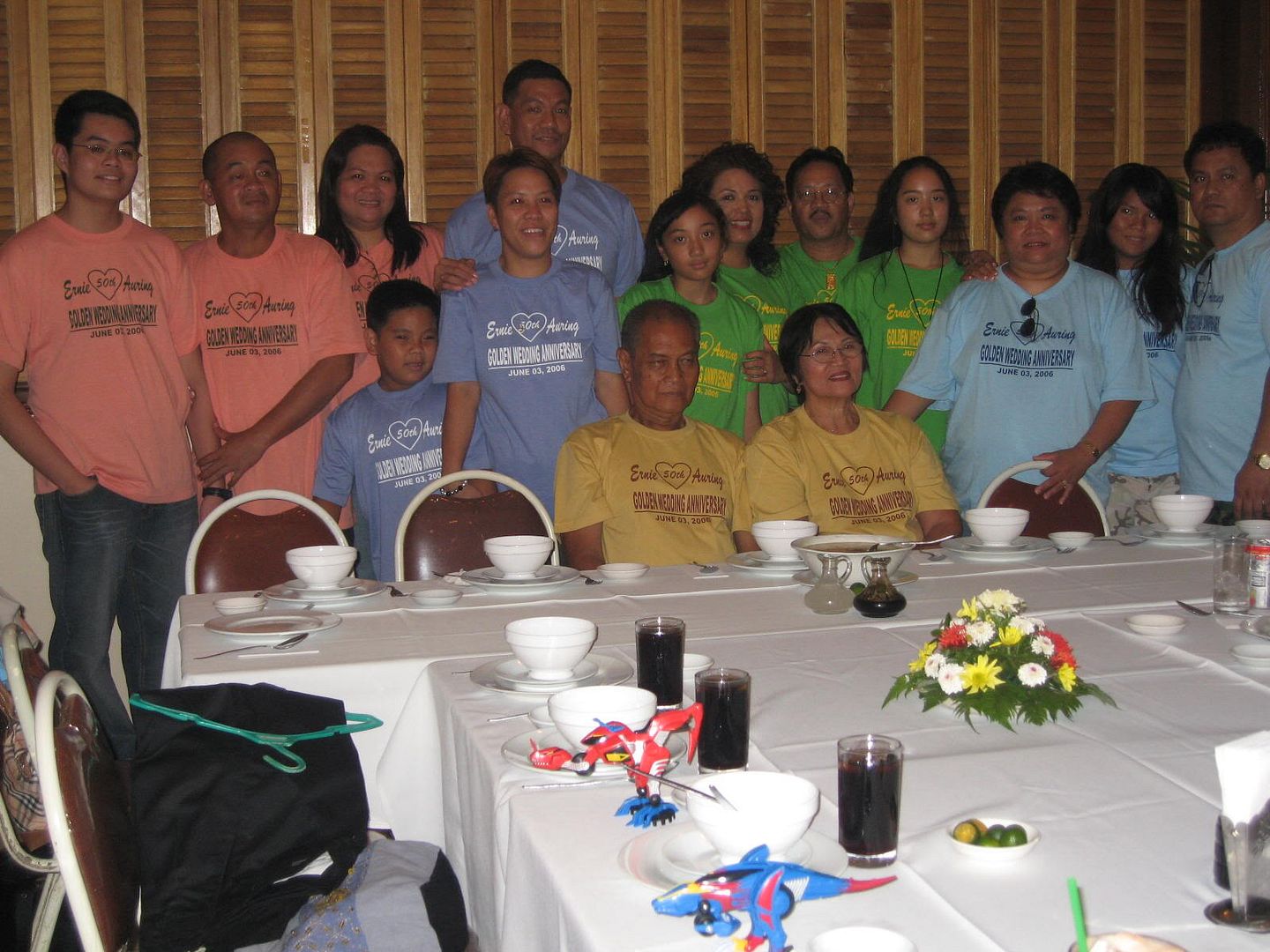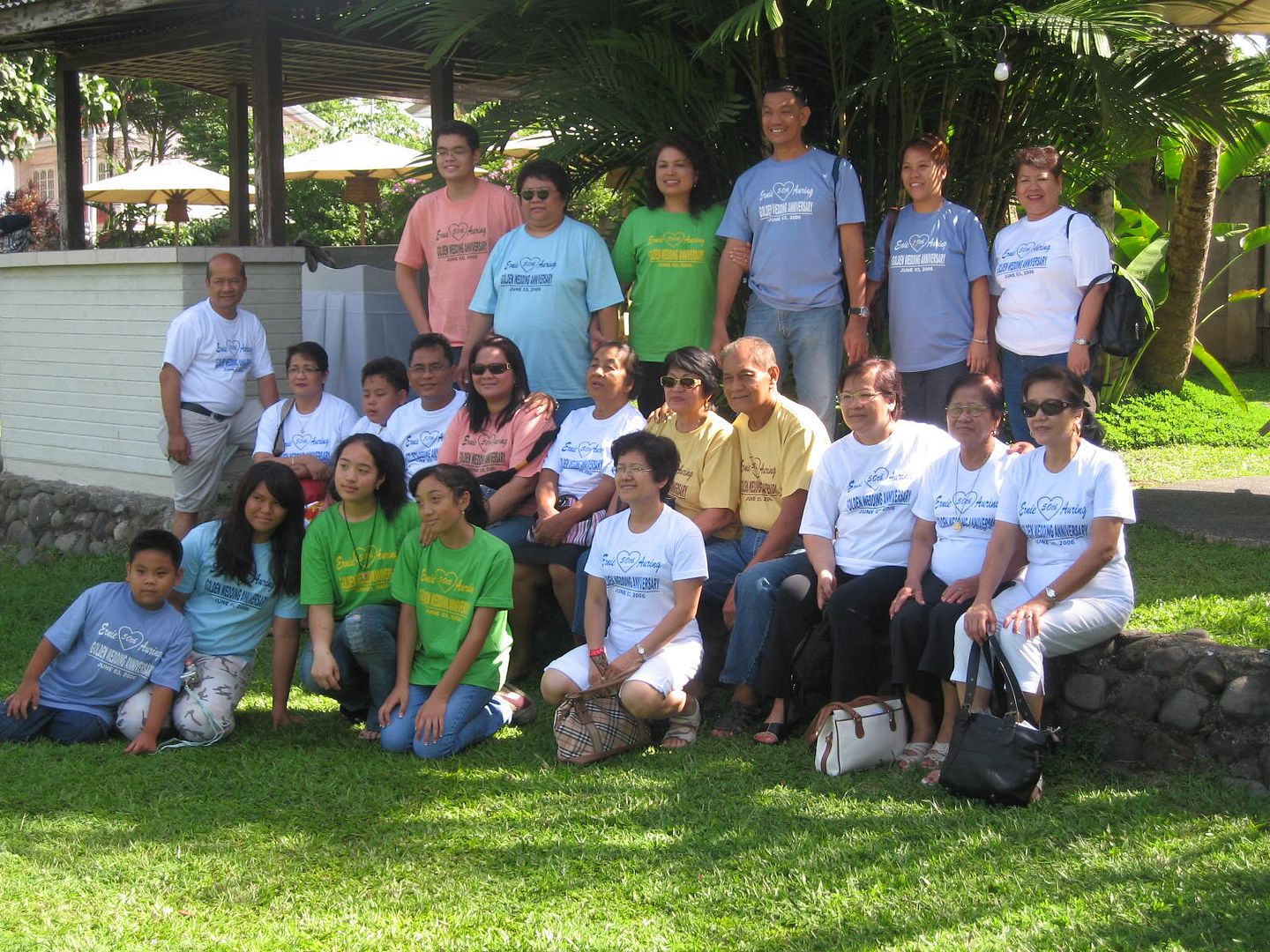 After all the planning, everything was worth it...everything was just so perfect.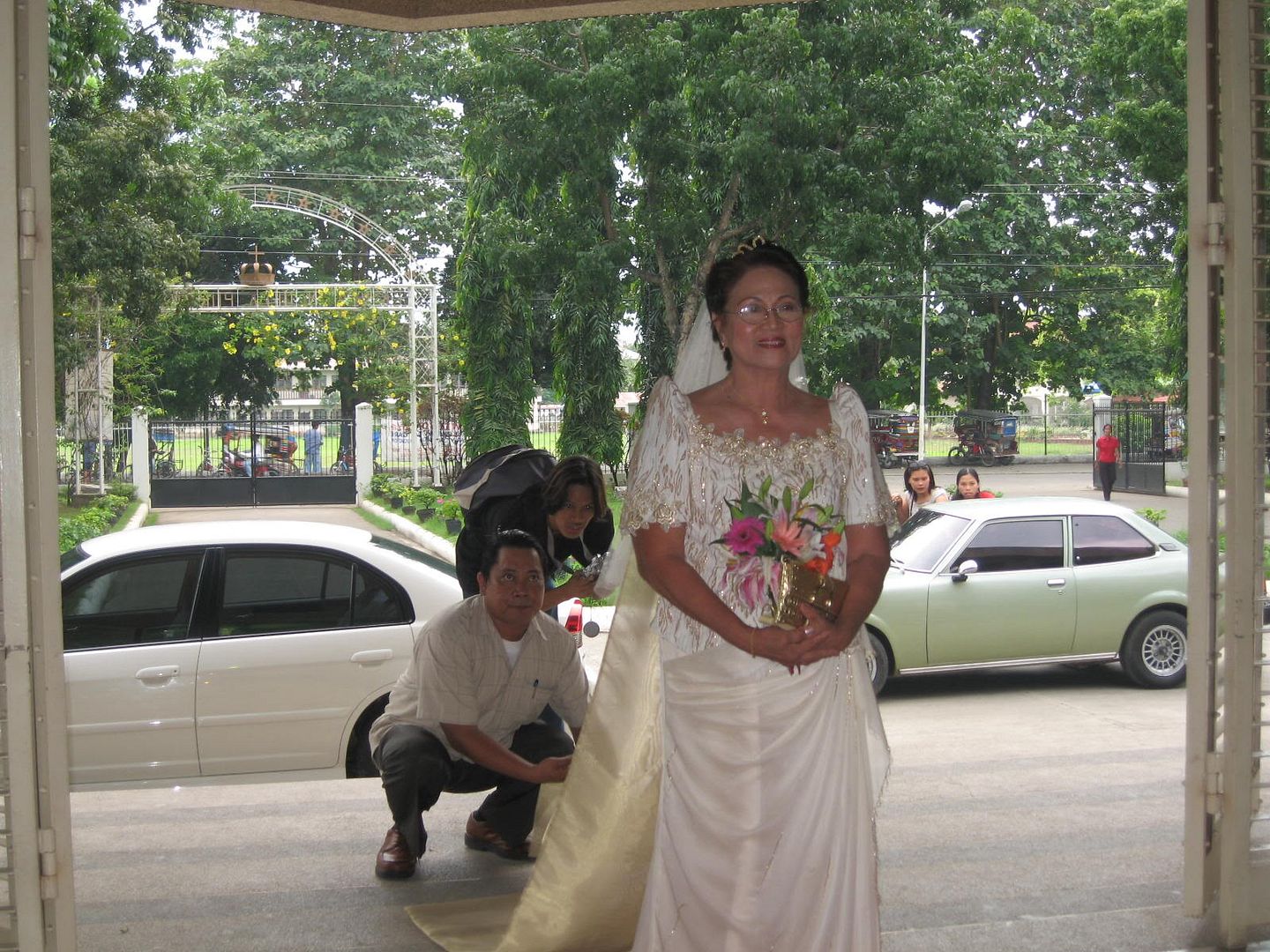 aww....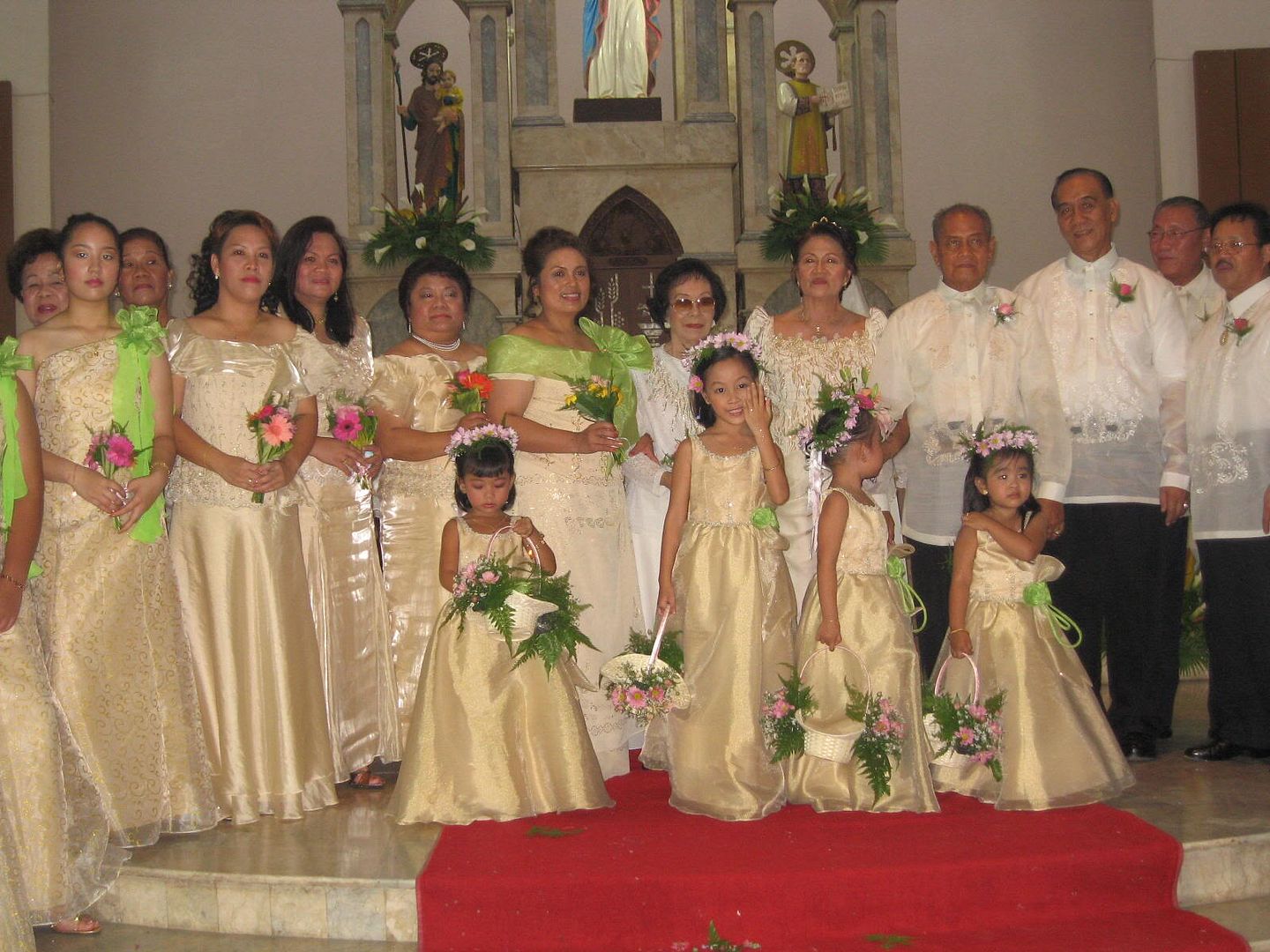 the cake