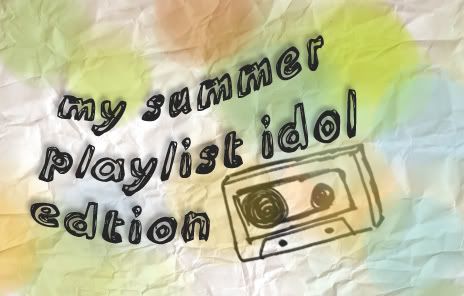 i am a big fan of: lists, American Idol, and iTunes. So I thought of combining what I love into a cohesive blog entry.
Music defines my summer. There is a sense of nostalgia the way a song hits my nerves. Every time I hear a particular song, I always think of summer. Last year, 'Bleeding love' served as the backdrop for last year's series of demos, return demos and history 100 video reports. They go hand in hand - music and memories.
This year, as the remaining traces of summer are slowly being swept away by typhoons (LITERALLY, since you know, it
is
the start of the wet season after all), I feel self-entitled to immortalize my summer with the songs that went with it - specifically, the songs from AI season 8 ( I told you I felt self-entitled. haha)
5. Danny Gokey's "What Hurts The Most"
Come on, the minute he stepped into the audition room, you felt the need for him to be heard. He may have not won viewers with his fondness for cookie cutter love songs which aren't really contemporary, but he sings CLASSIC love songs which, as the name suggests, stand the test of time. His voice tugs at the heartstrings like no other voice can!
4. Allison Iraheta's "I Can't Make You Love Me"
Allison actually isn't the generic rocker I thought she would be. She surprised me with this mature rendition of a country classic. Her voice was gruff yet controlled, smooth and simply on-point. Oh, and she's only 16 years old.

3. Kris Allen's "Heartless"
Although I wanted Allison to be in the final three, without her exit, the world would have never seen Kris Allen sing the song that would potentially catapult him to the finals. I actually didn't care for this song while he was performing it, but after giving it another spin, I got what America was all about. It's more than youtube-worthy (you know the one where people post their version of famous songs with the hope of getting Ellened or Oprahed), it kicked Kanye's ass.

2. Kris Allen's "Falling Slowly"
I didn't get why collectively, Kris wasn't praised for this version of the song. The way he sang it was honest and pure, that it just put the spotlight on him and no one else. It wasn't as strong as the other contenders, but it held its own and ultimately proved that Kris was on his way to the top.
1. Matt Giraud's "So Small"
NO, ADAM LAMBERT ISN'T ON MY LIST. A soft spot at the top of my list is reserved for Matt's number on a Carrie Underwood. He sang it beautifully that I almost felt he was getting teary-eyed at the end. The way Matt, stripped of Carrie's range and falseto, made it more uplifting than the original version is simply mind-boggling. It prefectly blended country and soul together in a powerfull rendition that might as well make it to your list of wedding songs, or something like that.