I confess, I'm a lumpia freak. Throw away that bag of potato chips, give me fried lumpia and I'm all good. These tender morsels of finely ground pork (or beef) are wrapped in a thin flour wrapper and deep fried, best served with a thick homemade sauce of soy sauce, vinegar, garlic and cornstarch. But bottled sweet and sour sauce will do. Here in Zamboanga, there are a few note worthy food joints that serve really tasty lumpiang shanghai. And out of the blue (and because I just ate lumpia a few hours ago), I decided to name my top 3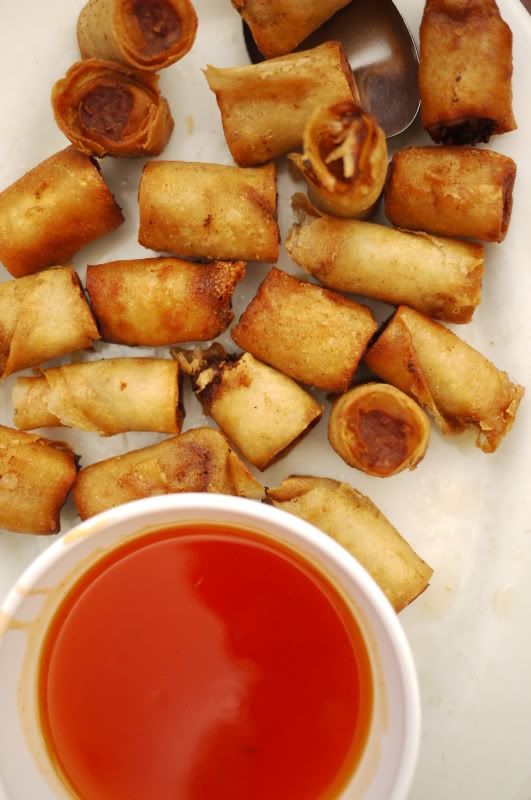 1. Lejan's Ice Cream House - they're not really known for their ice cream though. I love their fried lumpia and I think that's what keeps their business alive. Juicy meat-y heaven served with sweet and sour sauce.
2. Aristocrat Luncheonette - I just ate their lumpia over lunch with friends. The taste is similar to the Lejan's variety, but the latter just holds a place at the top.
3. My aunt's homemade variety - The word 'extremely ground' meat is the best way to describe my aunt's lumpia. She makes this for us during fiestas and birthdays and most of the time it's through an order basis. The homemade sauce works best with this one. Plus she adds shredded carrots to the filling!
So what makes a "good lumpia"? Well it's pretty simple. The wrapper shouldn't take up 80% of the lumpia. When you bite into it, you should really taste the well-seasoned meat, not the wrapper. The filling has to make a lasting impression. Lejan's takes the top spot for me because even if I haven't eaten there in a while, I could vividly remember how juicy and tasty the meat filling was. Hence, balancing the natural flavor of the meat with salt, pepper (and other stuff) is key.