I practically have a day more to devote to cooking like there's no tomorrow. Tomorrow's another absolutely riveting day in school, filled with learning and friendship, cupcakes, unicorns and rainbows. Screw that.
I made hot chocolate today! My grandma apparently liked what I did a few days ago (which is weird), so she asked me to make it again. I did a little tweak here and there and finally came up with a mix that I actually like: 200 grams dark chocolate, 2 cups low fat milk - mix together and bring to a boil and that's practically it.
Anyway, aside from that I thought of making another Sunday dish that I've been waiting to make for a while now.It's called "Fall Off the Bone Baby Back Ribs with Beer Barbecue Sauce". Try saying that ten times. I got it from
Yummy.com.
It's actually the official website of a monthly magazine that's big here in the Philippines. Yeah I'm patronizing. But really, it's a damn good unpretentious magazine.
The instructions seemed fairly easy enough. And really, the long part is just boiling/pressure cooking the meat. The rest can be done in a jiffy.
Yeah you read it right: the secret to tender baby back ribs is obviously to pressure cook it. Well, if I'd use our defective pressure cooker I would risk blowing up our kitchen, so I boiled the meat over high heat for about an hour and a half instead. Pork softens faster than beef so it wasn't a problem.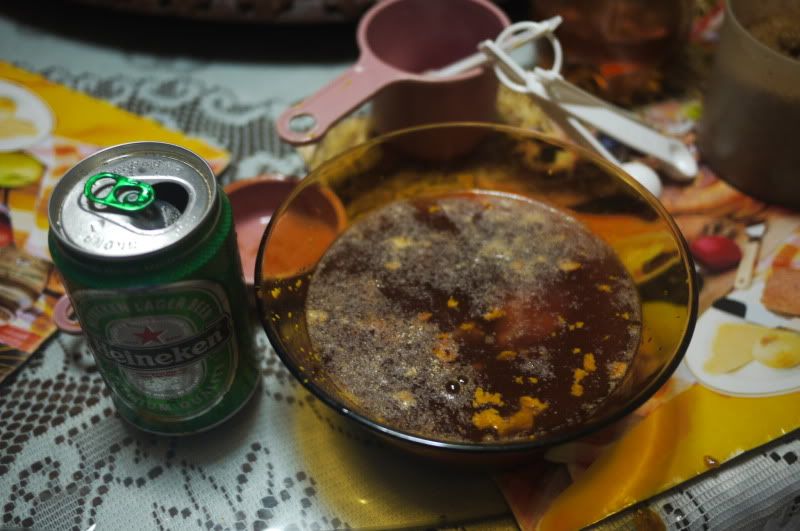 That's basically the long part. Making the sauce is easy, and the recipe had me at beer, so there. Since a can of beer is more than enough for 1 cup, it's up to you to imagine what I did with the rest. I had a good time stirring the sauce that's for sure.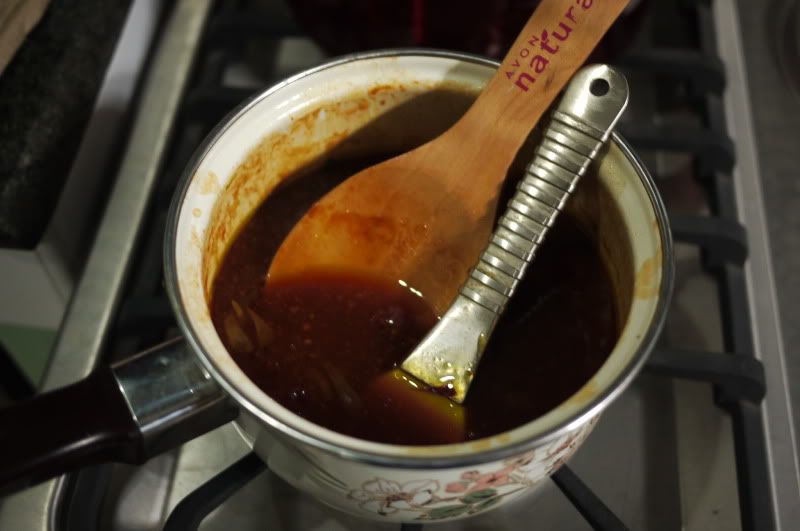 Roasting was the meat was easy enough. I didn't have any cataclysmic fail that's for sure...It took me around 20 minutes tops to do the preliminary roast and the basting then roasting it again.
So, the verdict? It was pretty amazing!!! The meat was soft and juicy. The taste wasn't compromised just because I didn't use a pressure cooker. It didn't really fall off the bone but a mouthful of the tender meat would make that forgivable. The sauce was spicy but the taste really complemented the roast. It was, pretty much one of the tastiest barbeque sauces I've had. BUT, it was spicy...spicy enough to distract you a little from the whole meal, but like I said, things were forgivable. I'd recommend adding only half the amount of the hot sauce next time. But overall, my Sunday meal was pretty kick-ass!
Fall-off-the-Bone Baby Back Ribs with Beer Barbecue Sauce
Serves

4

1 kilo baby back ribs
6 cups pork stock (6 cups water and 1 pork bouillon cube)
1 medium onion, quartered
1 medium carrot, diced
4 cloves garlic, smashed

For the Beer Barbecue Sauce
1 tablespoon vegetable oil
1/4 cup finely chopped onions
1/2 cup beer
1/3 cup tomato ketchup
3 tablespoons honey
1 tablespoon chili sauce
2 tablespoons brown sugar
1 tablespoon mustard
2 teaspoons Worcestershire sauce
1/2 teaspoon garlic powder
ground black pepper to taste

Part 1: Prep Time 4 minutes Cooking Time 30 to 45 minutes

1 Cut ribs into sections of 5 to 6 ribs each to fit in a pressure cooker. Place ribs in the pressure cooker together with the pork stock, onion, carrot, and garlic. Pressure-cook for 30 to 45 minutes until ribs are tender.

2 Let cool and keep in the refrigerator.

Part 2: Prep Time 4 minutes Cooking Time 30 minutes

1 Make the barbecue sauce: Heat oil in a small saucepan and sauté onions until translucent. Add the rest of the ingredients and mix well.

2 Bring to a boil then reduce to a simmer. Let sauce cook for 6 to 8 minutes or until thick.

3 Prepare a charcoal grill or preheat oven to 350ºF. Grill or roast the ribs for 10 minutes. Baste with barbecue sauce and continue to cook for another 10 minutes. Serve with remaining barbecue sauce and desired salad on the side.

Tendering tip To ensure tender ribs, remember to remove the thin sheet of membrane on the back of the ribs. Slide a sharp knife under the membrane to loosen it then gently pull it off.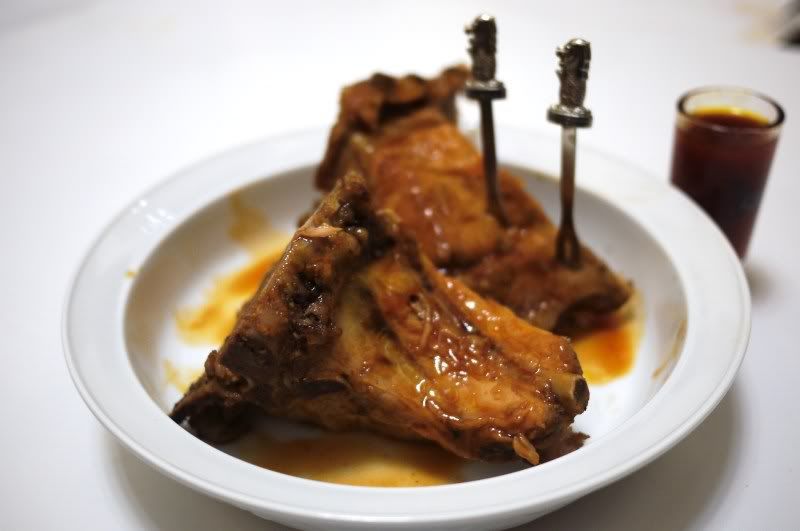 Yeah, since the sauce had beer in it, I might as well serve and style it in a shot glass. Kudos to my mom's plate and mini forks on display. They're great as props. Just don't tell her I used them.