Yesterday I woke up at around 10 am with no breakfast to be had. I know, poor boy. Anyway, I was so hungry + it was close to lunch time + a pack of chicken breast fillets were waiting in the fridge = you don't need to guess.
This is a fairly simple recipe that I just thought of. I haven't really tried and tasted it before so I was technically experimenting for lunch. I had some Japanese breadcrumbs I intended to use for Ebi Tempura but I was itching to try it together it parmesan cheese to make a simple coating for the seasoned chicken. The verdict? I liked how the meat turned out just right - juicy and tender. Next time I would double the parmesan cheese though, to make the the breading really pops with flavor.
This meal was a welcome respite from binge eating party after friggin party brought to me by my eager classmates. Not a day goes by without me eating lechon/roasted pig (It feels good to graduate! Or not). On second thought, I'm not sure if this recipe is really healthy though. Sure it's chicken breast, but coated with cheese and fried in oil? Not sure about that. Oh well, I can always sweat it out....eventually. I hope.
Parmesan Chicken Breasts
serves 1 - 2
Ingredients:
2 medium sized chicken breasts
1/3 cup Japanese breadcrumbs
4-5 tablespoons grated parmesan cheese
1/2 tsp dried basil
1 egg
salt and pepper

Directions:
1. Pound the chicken breasts to tenderize them. I used my fist (haha). Lightly season with salt and pepper. Let the chicken rest for a few minutes.
2. In a bowl, whisk the egg and season with a pinch of salt and pepper. In a separate bowl, make the breading mixture by mixing together the breadcrumbs, cheese and basil. Transfer to a dish shallow enough for easy and even coating for the chicken.
3. Heat enough oil to cover the pan. Dip the chicken in the egg first, then in the breading mixture. Fry it in the hot oil for 7 - 10 minutes on each side or until golden brown. Transfer to a plate and serve hot with grated parmesan on top.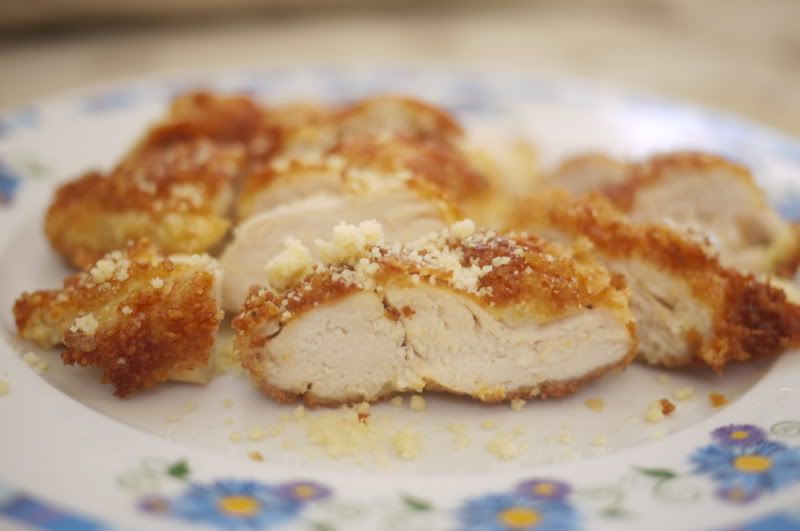 Looking back, I just realized how great this would taste with
marinara sauce
. OK, now I'm hungry