I never really considered myself as someone who goes out and explores stuff, but just recently, thanks to my friends, I discovered a few of Zamboanga's good to great foodie joints. Both have their own stories to tell and it took this all this time to find out that they are established businesses here. Despite the almost too quaint setup, these two food stopovers actually have a loyal cult following. Obviously both of them aren't mainstream hangouts, and I actually wouldn't have it any other way.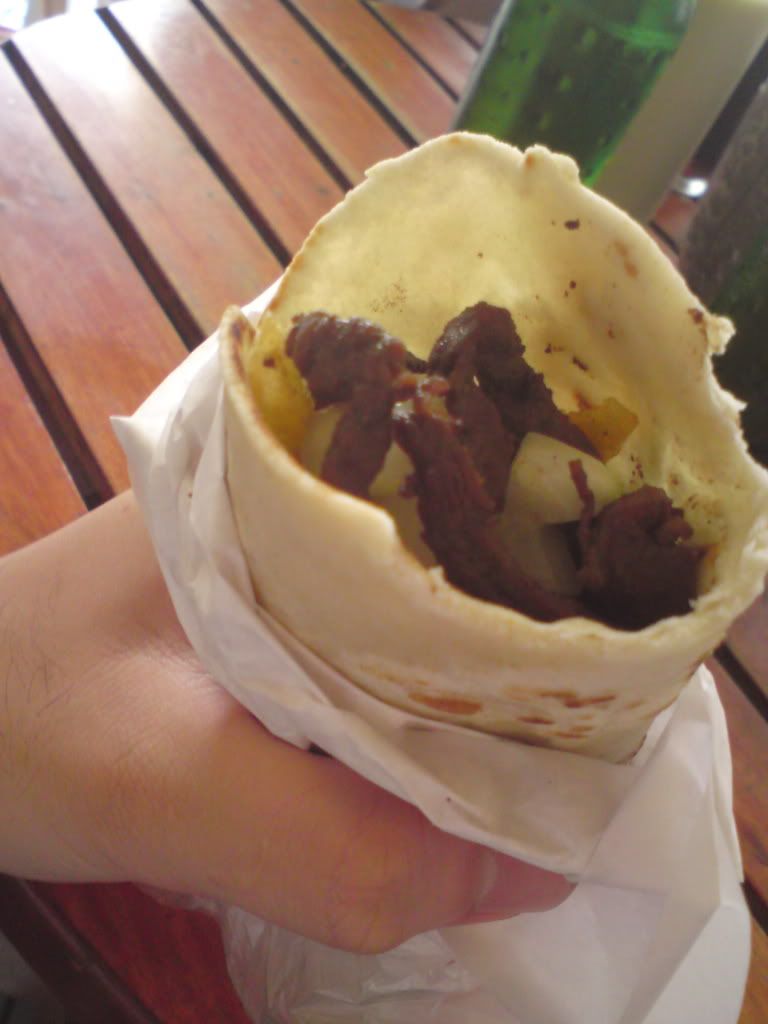 first off, the Early bird bakeshop (beside Yubengco Mall, brgy. Putik ) which is ironically, not known for their pastries but for the shawarma. After an intense badminton game at the Summit Center in Tetuan, Camille suggested we eat at her favorite shawarma place which isn't too far from where we were. When we got there, the place was almost full. The location is just right to accomodate around 30 people. Nothing fancy, only tables, chairs and flies.
There are some who don't like shawarma because of the smell (which is weird since I really don't find it offending) and the reputation of it being messy to eat. But this kind of shawarma, which comes in a LOT of variants from beef to egg, double to deluxe (?), actually won me over primarily because the people who made this had customer satisfaction in mind. It is served (along with the usual paper wrapper), with plastic which catches the contents which spill over, which makes eating it almost mess-free.
Their grilled beef shawarma (also in double beef) would have to be the runaway favorite. The shawarma bread (Is it Pita? comment if you know) is warm and chewy. The first bite would reveal fried potatoes (I wouldn't really call it french fries) together with the savory beef and other veggies, erratically mixed but good all the way.
I remember eating shawarma with cabbage and I was glad that it was nowhere to be seen (and tasted). The onions and tomatoes are fresh and crisp. I really don't like to eat tomatoes raw, but with all the other stuff mixed into the shawarma, I didn't mind. The snack is served with two sauces: white (garlic) and hot sauce. Both go well with the savory shawarma and the best way to enjoy the whole thing is alternate squeezes of garlic and hot sauce with every other bite.
But I have to agree with Camille (who enjoys the stuff so much) that the quality of the preparation varies, with some shawarmas being hits and some being misses. But all of this is very subjective and only one with a discriminate taste for a good serving of Early Bird's shawarma would really know the difference. For the rest of us, the first bite alone is enough to make us Early Bird converts. And yeah, everyone in the group became a fan.
**********
this is getting to be a long post, so i'll reserve the next food joint for tomorrow.