I always have this deep-seated fascination with horror media - movies, books, TV shows. Out of the three, I am almost always scared more with what I read than what I watch. I remember when I was in Cagayan de Oro a few years ago, a National Bookstore trip found me buying my first True Philippine Ghost Stories book. The funny thing is I never finished it because it creeped me out so much I couldn't stand being alone in a room, especially at night.
What's weird about me is that I'm a wuss when it comes to horror. True, I said I had a fascination with it but I almost always crawl back to my 'safe mode' everytime I watch a scary movie - my eyes semi-closed with my hands on my ears since I think a scary movie banks on its sound effects more than its' visuals. I did that with Ghost Whisperer, Nginiiigg, Phobia and even that Gabby Concepcion movie.
So where am I going with this?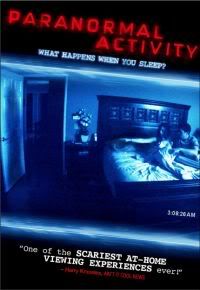 Today, in broad daylight, I'll watch Paranormal Activity (the first one, not the sequel) from my laptop, WITH MY EARPHONES GLUED TO ME. You get the picture? I'm thinking this is a way to desensitize myself the hard way - through horror boot camp. Wish me luck and I'll post the experience when I'm done!